Rotary Torque sensors - TRD, 5-2000kgf-m
Model TRD loadcell measure the torque of continuous rotating object. Platinum coated connector provides long term signal stability and high accuracy.

These models are most appropriate for industrial measurement. Applications include the performance testers for automotive components such as clutchs, transmissions, motors and pumps.
SPECIFICATIONS
SPECIFICATIONS TABLE
Specifications
Accuracy
Rated capacity(R.C)

2 ~ 50kgf-cm (0.196N-m ~ 4.903N-m)
1 ~ 2000kgf-m (9.807N-m ~ 19.61kN-m)
Rated output(R.O)
1.5mV/V ± 1% (2㎏f-cm ~ 5kgf-m : 1mV/V± 1%)
Nonlinearity
0.3% R.O.
Hysteresis
0.3% R.O.
Reperatability
0.2% R.O.
Excitation recommended
10 V
Terminal resistance
350Ω±5%
Insulation resistance bridge
200㏁
Temperature effect, on rated output
0.2% Load / 10℃
Temperature effect, on zero balance
0.3% R.O / 10℃
Safe overload
120% R.C
Cable length
φ7.4core coble 3m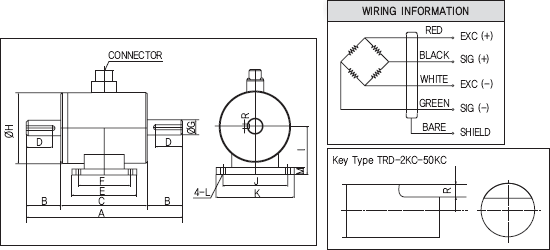 DIMENSIONS
unit:mm
DIMENSIONS TABLE
Model
Capacity
A
B
C
D
E
F
φG
φH
I
J
K
φL
M
R
R.P.M
TRD-2KC
2kgf-cm
(0.196N-m)
84
16
52
12
42
32
8
60
34
65
76
5.5
8
1
3000
TRD-5KC
5kgf-cm
(0.490N-m)
84
16
52
12
42
32
8
60
34
65
76
5.5
8
1
3000
TRD-10KC
10kgf-cm
(0.981N-m)
84
16
52
12
42
32
8
60
34
65
76
5.5
8
1
3000
TRD-20KC
20kgf-cm
(1.961N-m)
84
16
52
12
42
32
8
60
34
65
76
5.5
8
1
3000
TRD-30KC
30kgf-cm
(2.942N-m)
84
16
52
12
42
32
12
60
34
65
76
5.5
8
1.5
3000
TRD-50KC
50kgf-cm
(4.903N-m)
84
16
52
12
42
32
12
60
34
65
76
5.5
8
1.5
3000
TRD-1K
1kgf-m
(9.807N-m)
90
16
58
12
46
32
18
72
41
80
94
6.5
8.5
5x5
5000
TRD-2K
2kgf-m
(19.61N-m)
90
16
58
12
46
32
18
72
41
80
94
6.5
8.5
5x5
5000
TRD-3K
3kgf-m
(29.42N-m)
90
16
58
12
46
32
18
72
41
80
94
6.5
8.5
5x5
5000
TRD-5K
5kgf-m
(49.03N-m)
180
42.5
95
35
64
50
18
80
46
80
100
7
12
5x5
5000
TRD-10K
10kgf-m
(98.07N-m)
180
42.5
95
35
64
50
18
80
46
80
100
7
12
5x5
5000
TRD-20K
20kgf-m
(196.1N-m)
220
55
110
45
100
84
32
100
63
98
115
7
12
10x8
4000
TRD-50K
50kgf-m
(490.3N-m)
220
55
110
45
100
84
32
100
63
98
115
7
12
10x8
4000
TRD-100K
100kgf-m
(980N-m)
280
80
120
69
120
98
47
100
66
124
148
8.5
15
12x8
4000
TRD-200K
200kgf-m
(1.961KN-m)
280
80
120
69
120
98
47
100
66
124
148
8.5
15
12x8
4000
TRD-500K
500kgf-m
(4.903KN-m)
390
130
130
100
126
100
90
172
101
154
180
11
20
25x14
2000
TRD-1000K
1000kgf-m
(9.807KN-m)
390
130
130
100
126
100
90
172
101
154
180
11
20
25x14
2000
TRD-2000K
2000kgf-m
(19.61KN-m)
440
150
140
120
148
110
115
210
130
190
228
13
23
32x18
2000